Why Dark Horse candles...
Dark Horse candles are made with 100% natural waxes with the emphasis on the safest and most sustainable materials. We believe strongly in using clean burning, eco-friendly, cruelty free components that don't sacrifice the overall performance of a great smelling candle. This includes scenting our candles with premium fragrance oils for their proven safety, sustainability and variety. We use a coconut wax based blend that has a nice slow even burn. Coconut wax is also one of the most environmentally friendly waxes available as it's not associated with deforestation and does not require pesticides, fertilizers, or herbicides. We make our candles with both led-free cotton wicks or ethically sourced wooden wicks.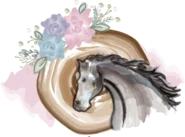 Dark Horse Handcrafted-made with passion
We use only the very best materials . If the item is defective, damaged or if you receive the wrong item, , we'll make it right.
Shop Now
We are Dark Horse Handcrafted
About us
My name is Denice Harrison and I am the creator behind Dark Horse Handcrafted. While I enjoyed my life growing up in the city, it seemed my heart was drawn to the more peaceful surroundings of country life. This city girl now turned country girl hangs her hat in Mayerthorpe, Alberta.
Read More